Easier, Faster, Stronger, Safer, Smarter
Zimbra incorporates several open source projects under one supported and certified application to offer world-class, open source collaboration software consumable for the enterprise
Unlimited Mailbox
Runs on the Linux Operating System
Easy to set up with Web Administration
Integrated with AntiVirus and AntiSpam
Multi Domain capabilities
Mailbox Quota limitation
Email
Contacts
Calendar
Tasks
Briefcase & Drive
Chat
SMTP (25, 465 &  587)
POP3 (110 & 995)
IMAP (143 & 993)
Browser: Chrome, Firefox, Safari & IE
Desktop: Outlook, Thunderbird, dll
Mobile: Android, Iphone, Windows Phone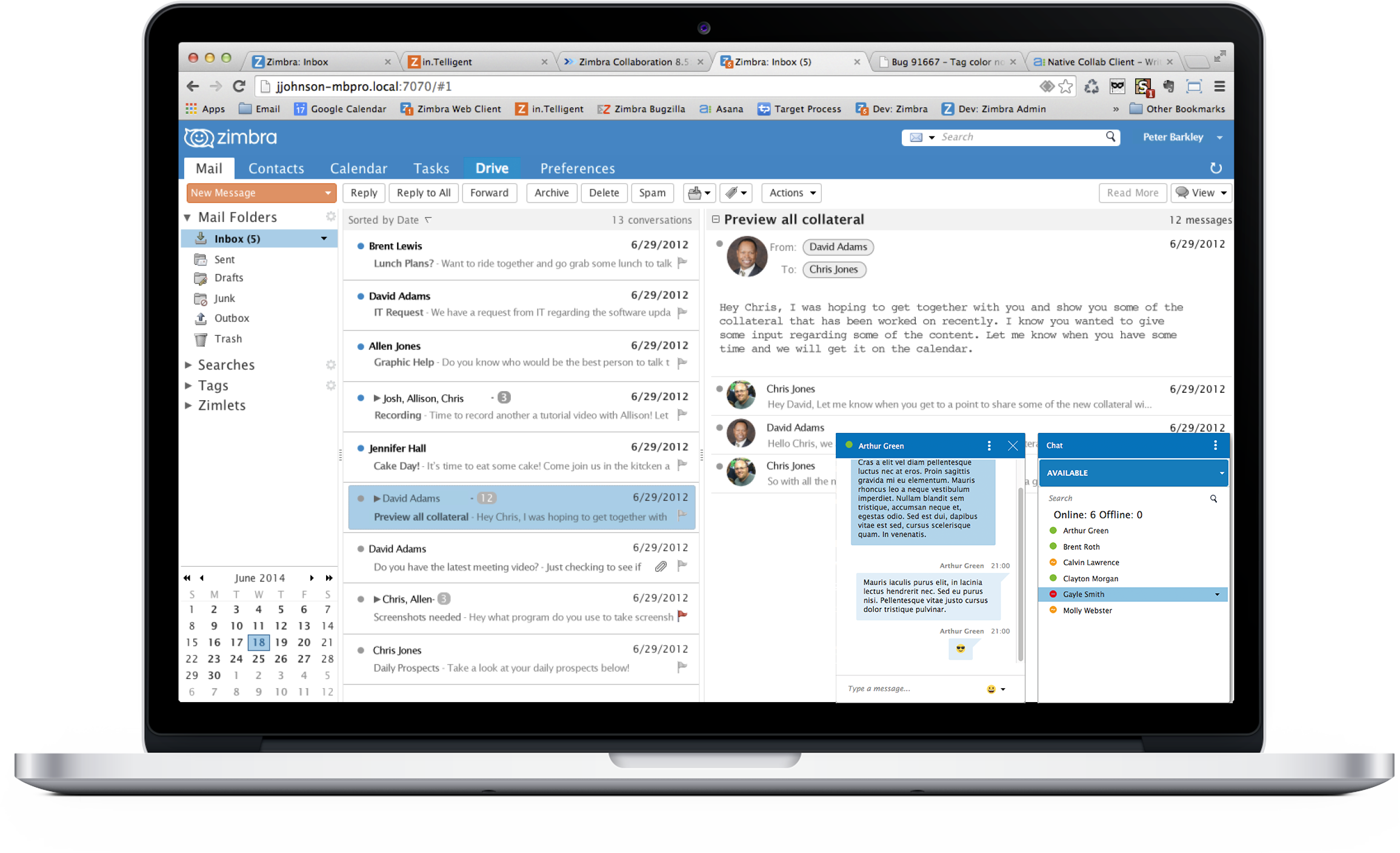 System Requirements
Evaluation and Testing
Intel/AMD 64-bit CPU 1.5 GHz
RAM requirements:

For single server installations, a minimum of 8GB of RAM is required.
For multi-server installations, contact Zimbra sales for recommendations.

5 GB free disk space for software and logs
Temp file space for installs and upgrades*
Additional disk space for mail storage
Production environments
Intel/AMD 2.0 GHZ+ 64-bit CPU
RAM requirements:

For single server installations, a minimum of 8GB of RAM is required.
For multi-server installations, contact Zimbra sales for recommendations.

Temp file space for installs and upgrades*
10 GB free disk space for software and logs (SATA or SCSI for performance, and RAID/Mirroring for redundancy)
Additional disk space for mail storage
Temp files space: The zimbra-store requires 5GB for /opt/zimbra, plus additional space for mail storage. The other nodes require 100MB.
Cloud Platforms
The following Cloud Platforms are supported:
Oracle Cloud
VMware vCloud Director
VMware vCloud Air
Virtualization Platforms
The following hypervisors are supported:
VMware vSphere 6.x
VMware vSphere 5.x
VMware vSphere 4.x
XenServer 6.5
XenServer 6.2
KVM
Operating Systems
The following Operating Systems are supported:
Red Hat® Enterprise Linux® 7 (64-bit)
CentOS Linux® 7 (64-bit)
Red Hat Enterprise Linux 6 (64-bit), patch level 4 or later is required
CentOS Linux 6 (64-bit), patch level 4 or later is required
Oracle Linux 7.2
Oracle Linux 6.6
Ubuntu 16.04 LTS Server Edition (64-bit), starting from Zimbra Collaboration 8.7.1 and above
Ubuntu 18.04 LTS Server Edition (64-bit), starting from Zimbra Collaboration 8.8.12 and above (Beta)
Don't miss this opportunity to optimize your technology performance